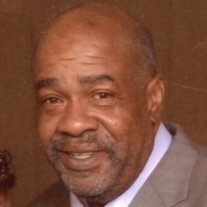 Obituary of Charles Edward Jones
Charles Edward Jones, 66, passed away on Friday, January 21, 2014.
Service: 12 noon Saturday, Salem Missionary Baptist Church, 3400 Mitchell Blvd, Fort Worth.
Visitation: 12 noon - 5 pm Friday, Martin Thompson & Son Funeral Home, 6009 Wedgwood Drive, Fort Worth, and 7 pm - 8 pm Friday at Salem Missionary Baptist Church.
Interment: Skyvue Memorial Gardens, Mansfield.
Charles was born on May 8, 1947 in San Francisco, CA. He was retired from General Motors. Charles loved to fish and hunt. He was a member of the U.A.W 816 Union Fishing Tournament.
Survivors: His loving wife Martha Jones and a host of other relatives and friends.
To send flowers to the family of Charles Jones, please visit Tribute Store
Visitation
FEB 28. 12:00 PM - 05:00 PM Martin Thompson & Son Funeral Home 6009 Wedgwood Drive Fort Worth, TX, US, 76133 info@martinthompsonfh.com http://www.martinthompsonfuneralservice.com
Visitation
FEB 28. 07:00 PM - 08:00 PM Salem Missionary Baptist Church 3400 Mitchell Blvd Fort Worth, TX, US, 76119
Service
MAR 1. 12:00 PM Salem Missionary Baptist Church 3400 Mitchell Blvd Fort Worth, TX, US, 76119
Interment
Skyvue Memorial Garden 7220 Rendon Bloodworth Rd Mansfield, TX, 76063