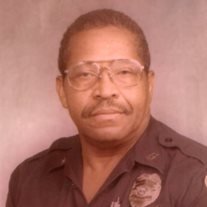 Obituary of LeRoy Frank Billingslea
Leroy "Frank" Billingslea, 75, departed Sunday, March 16, 2014.
Service: 11 am Friday, March 21, at Highland Park Baptist Church.
Visitation: 12 noon - 5 pm Thursday at the funeral home.
Wake: 6 pm - 7 pm Thursday, March 20 at Highland Park.
Survivors: Loving wife, Ruth; children, Mareo (Evelyn), Antonius, Aldo (Renee), Eric, Aqeelah, Barbara, Charlene (Larry), and Kimberly; twenty grandchildren, six great-grandchildren; countless nieces and nephews, family and friends all loved by Frank.
Visitation
MAR 20. 12:00 PM - 05:00 PM Martin Thompson & Son Funeral Home 6009 Wedgwood Drive Fort Worth, TX, US, 76133 info@martinthompsonfh.com http://www.martinthompsonfuneralservice.com
Visitation
MAR 20. 06:00 PM - 07:00 PM Highland Park Baptist Church 131 E Baltimore Ave Fot Worth, TX, US, 76104
Service
MAR 21. 11:00 AM Highland Park Baptist Church 131 E Baltimore Ave Fot Worth, TX, US, 76104
Graveside Service
MAR 24. 01:00 PM Dallas Ft. Worth National Cemetery 2000 Mountain Creek Pkwy Dallas, TX, US, 75211
Interment
Dallas Ft. Worth National Cemetery 2000 Mountain Creek Pkwy Dallas, TX, 75211