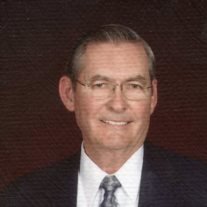 Obituary of William Clinton Lange
William Clinton Lange, 79, joined the love of his life, Norma Jean, in heaven on Sunday, March 30, 2014. Clint went home with the grace and peace of knowing the true meaning of life lived well: to love and to be loved.
Rosary will be at 7 p.m. Thursday, April 3, at St. Boniface Catholic Church, Olfen, Texas, where he grew up. Mass will be at 10 a.m. Friday, at St. Boniface Catholic Church, Olfen, Texas. Following the funeral mass, Clint will be reunited with his beloved wife at St. Ambrose Catholic Cemetery in Wall, Texas.
Clint was born November 1, 1934, in Ballinger, Texas, a fitting day for Roman and Matilda Lange to proudly welcome their first born saint. Clint had the blessing of being raised a farmer working God's land, but after graduation from Ballinger High School, he enlisted in the Air Force to serve his country. Following tours in Bermuda and Mississippi servicing B-29 bombers, and after being honorably discharged from service, Clint enrolled at Texas Tech University in Lubbock. Clint worked long nights at the bus station to pay for his college and was rewarded with a hard earned accounting degree. More importantly, he met his future wife, Norma Jean Gerngross, who grew up just down the road from him in Wall, Texas. They married on November 19, 1962, and started their journey together. They were blessed with three sons who became their life's most important work. Norma was called home to the Lord on March 11, 1998, and not a day passed in which she was not missed.
Clint had a successful career serving his country with the Internal Revenue Service in Lubbock. His career decisions were based on his family, always keeping them in a grounded, stable environment and close to grandparents, a very important aspect of his son's lives. Clint was a giver who lived his life for others, putting everyone before himself. He was a long time member of Christ the King Catholic Church in Lubbock as well as the Knights of Columbus and Serra Club. He was also involved in many activities in the early days of Christ the King Catholic School, where he sent his three sons. He was an avid supporter of all three of his sons' numerous activities. It was extremely important to Clint and Norma that their sons be educated and raised with Christian values; their many sacrifices paved a clear path for the boys. Clint enjoyed anything that had to do with family, including tennis, golf, dominos, smoking Popo's cigars, and going on many family fishing vacations in New Mexico and Colorado. Clint's physical presence, counsel, and support will be dearly missed, but he will always be with us and live on through his children and grandchildren.
Clinton is predeceased by his parents, Roman and Matilda Lange; his wife, Norma Jean Lange; his sister, Marcie Fuchs; and his brother, Gary Lynn Lange.
Clint is survived by his three sons, Douglas Lange and his wife Gail, Jeffrey Lange and his wife Kristen, and Sidney Lange and his wife Carrie; his grandchildren Isabel Jean, Julia Kathryn, Bennett Austin, Emily Claire, and Evelyn Jean Lange.
Memorials can be sent to the James L. West Special Care Center, 1111 Summit Avenue, Fort Worth, Texas 76102 or to the Alzheimers or dementia research organization of your choice.
To send flowers to the family of William Lange, please visit Tribute Store
Rosary
APR 3. 07:00 PM St Boniface Catholic Church 1118 County Road 234 Olfen, TX, US, 76875
Interment
APR 4 St Ambrose Cemetery Wall, TX, US
Mass of Christian Burial
APR 4. 10:00 AM St Boniface Catholic Church 1118 County Road 234 Olfen, TX, US, 76875
Interment
St Ambrose Cemetery Wall, TX,