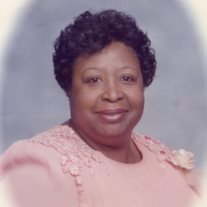 Obituary of Bobbie Jo Criss Robinson
Bobbie Jo Criss Robinson, 71, passed away on Tuesday, April 29, 2014.
Service: 11 am Saturday, Abundant Life Community Church, 430 E Main St, Crowley.
Visitation: 6 pm - 8 pm Friday, Abundant Life Community Church, 430 E Main St, Crowley.
Interment: Cedar Hill Memorial Park.
Bobbie Jo was born on August 10, 1942 in Corsicana, Texas to Everett and Mozell Liggens. She was a faithful member of Abundant Life Community Church where she sang in the choir, she was a Songstress for God. Bobbie Jo was a loving and devoted mother, grandmother, sister and friend, and will be greatly missed by all who knew her.
Bobbie Jo was preceded in death by her father, Everett Liggens, her mother Mozelle Garner, her husband John Robinson, her sisters, Ruby Liggens, Alice Jackson and Rosemary McGraw; and her brothers, Paul Garner and Norman Garner.
Survivors: Sons, Alonzo Criss, III and wife Cecily, Rodney Criss and wife Erma, Keith Criss and wife Thomasina, Avery "Bernard" Criss and wife Jodi, and Godson Herman Turner; daughters, Tonya Denise Criss, and goddaughters, Barbara Baston, Donna Homer and Cynthia Anderson; brothers, Lonnie Liggens, Rickey Garner, Tony Liggens, Paul Jacobs, and Robert Liggens; sisters, Betty Clayborn, Bessie Burns; and Nadine Rider; grandchildren, Timothy, Keith, Ashley, Moniquea, Averina, Crystal, Shelby, Dimenica, Whitney and Brittany; Six great-grandchildren; and her Abundant Life Community Church family.
To send flowers to the family of Bobbie Criss Robinson, please visit Tribute Store
Visitation
MAY 2. 06:00 PM - 08:00 PM Abundant Life Community Church 430 E Main St Crowley, TX, US, 76036
Service
MAY 3. 11:00 AM Abundant Life Community Church 430 E Main St Crowley, TX, US, 76036
Interment
Cedar Hill Memorial Park 8301 US 287 Hwy Mansfield, TX,