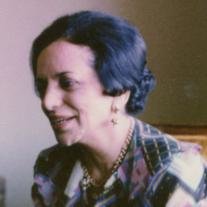 Obituary of Dora Habib Elmasri
Dora Habib Elmasri passed into the Lord's hands on May 1st, 2014 after a mercifully short period of illness.
Service: 3 pm Saturday, St. George Coptic Orthodox Church, Arlington.
Interment: Moore Memorial Gardens, Arlington.
She was born in Cairo, Egypt on June 20th, 1922. Her father, Habib Elmasry was a successful lawyer and involved in public service. He served on the committee which authored Egypt's first constitution in 1923, served as secretary of Egypt's first Senate in 1923, and drafted Egypt's first modern tax code in the 1930's. He was awarded the title of Pasha in recognition of his services to the State. He was also a devout member of the Coptic Orthodox Church which he faithfully served in many capacities, including forming the Church's first Lay Governing Council which helped to steer the Church and secure its rights in its relations with the Egyptian Government. Dora's older sister, Iris, was also active in Church and State. She authored and published a detailed, 10-volume history of the Coptic Church which took her 30 years to write; and she was appointed by President Anwar Sadat to Egypt's Senate in the 1970's as one representative of the Coptic minority.
Dora attended school in Egypt and England in the 1930's, and earned a Masters Degree in English Literature from Cairo University in the early 1940's. She was active, along with her older sisters, in the women's movement in Egypt in the 1940's through the 1960's; and served as president of the Egyptian Association of University Women in the 1960's. She was also active in several charitable and healthcare causes, helping underprivilidged families in Egypt.
In 1948, Dora married Dr. Aziz Elmasri, a prominent surgeon of his time. He was a Fellow of the Royal College of Surgeons of Edinburgh (Scotland), and a Fellow of the Royal Society of Medicine of England. In the 1940's, he was Chief Surgeon at the Middle East's most modern hospital, and attended to King Farouk, the last constitutional monarch of Egypt before the 1952 coup ushered in the present era.
Dora and Aziz lived most of their life in Alexandria, Egypt, and had two sons, Ramez and Maher, both of whom emigrated to the USA in the mid 1970's. After Aziz passed away, Dora moved to the United States in 1994 and became a US citizen, sharing her time between her two son's homes in Arlington, TX and Wayland, MA. While in the US, Dora wrote and published several books in Arabic documenting her times, the history of her family, and their services to Egypt and to the Coptic Orthodox Church. She also contributed many articles that were published in Coptic periodicals and newspapers.
Dora is survived by her two sons and their wives, Dr. Ramez Elmasri, Professor of Computer Science at UT Arlington and his wife Amalia, and Dr. Maher Elmasri, president of Thermoflow Inc. of Southborough, MA and his wife Inas. She is survived by her six grandchildren, Ramy Elmasri of Miami FL; Riyad Elmasri of Arlington, TX; Katrina Elmasri of Chicago, IL, Seti Elmasri of Wayland, MA, Thomas Elmasri of Austin, TX, and Meritt Elmasri of Boston, MA.
A funeral service will be held for Dora at 3:00 pm on May 3rd, 2014 at St. George Coptic Orthodox Church at 830 Eden Rd, Arlington, TX 76001. Colleagues and friends of the family are invited to attend the service at Church. Burial will follow at around 4:30 pm at Moore Memorial Gardens, 1219 North Davis Drive, Arlington, TX 76012.
To send flowers to the family of Dora Elmasri, please visit Tribute Store
Service
MAY 3. 03:00 PM St. George Coptic Orthodox Church 830 Eden Rd. Arlington, TX, US, 76001
Interment
Moore Memorial Gardens Arlington, TX,