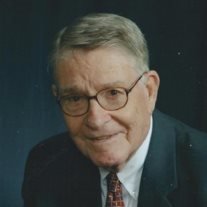 Obituary of O Dean Hubbard
O Dean Hubbard, went to be with his Lord on Thursday, May 15, 2014, surrounded by his family.
Memorial Service: 11 a.m. Saturday at University Baptist Church, 2720 Wabash Ave, Ft. Worth. Visitation 10 a.m. to 11 a.m. Saturday at University Baptist Church in the Loggia.
Memorials: In lieu of flowers, please make donations to University Baptist Church, North Texas Food Bank, Meals on Wheels or Union Gospel Mission.
Dean was born on November 3, 1924 in West Blocton, Alabama to Huey and Esther Hubbard. The oldest of 9 children, Dean was a loving and devoted son, husband, father, grandfather, great-grandfather, brother and friend. His family played a pivotal role in his life.
His Family moved to Southern Illinois in his early childhood, where he attended public schools in West Frankfort. After graduating from high school, he was drafted into the Army where he served in the South Pacific during World War II. After the war, he was part of the occupational force in Japan. He was recalled into the Army and served during the Korean Conflict. After being discharged from the Army, Dean pursued his education acquiring his Bachelor of Science from Southern Illinois University, a Master's from the University of Arizona, and a Ph.D. in Economics from the University of Illinois. He served on the faculty of Oklahoma State University in Stillwater until 1966 when he moved to Fort Worth to work for Kimbell Milling Company. While serving as Vice President of Kimbell, he instituted many programs bringing academic insight to business management. He left Kimbell to go into business for himself, where he ran a successful business until he retired, but he didn't stop working. After retiring from business, he became a staff member of University Baptist Church where he was an active member. He was also a Deacon and taught Sunday School for over 40 years. Dean also volunteered his time and energy supporting Meals on Wheels, North Texas Food Bank, and the Union Gospel Mission. In his spare time he also enjoyed golfing, hunting, gardening, reading and attending his grandchildren's athletic events.
Dean was preceded in death by his parents, his daughter, Linda Folsom, and his brothers, Andy and James Hubbard.
Survivors: Wife of 67 years, Dorothy; son, Greg Hubbard and his wife Sharon, of Aledo; daughters, Patti Beach and her husband Ricky, of New Braunfels, Sally King and her husband Jeff, of Ft. Worth, and Mary Beth Marshall and her husband Jay, of Dallas; son-in-law, Stan Folsom, of Dumas; eleven grandchildren; Pam Simms Root and husband Mike, Jonathan Folsom and wife Melba, Courtney Beach Biasatti and husband Joey, Robby Beach, Claire Hubbard, Drew Hubbard and wife Stephanie, Kelsey Hubbard, Preston King, Max Marshall, Julia King, and Charlie Marshall; great-grandchildren, Adam and Noah Root, Zander Folsom, and Isabella and Adriana Biasatti; brothers, Albert, Charles and Carl Hubbard; sisters, Ruth Dreckshage, Catherine Keck and Janet Harper.
To send flowers to the family of O Hubbard, please visit Tribute Store