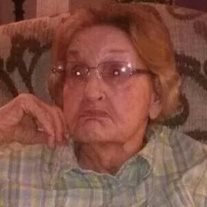 Obituary of Faye Swaim
Faye Swaim, 88, passed away on Wednesday, June 25, 2014.
Memorial Service: 1 pm Saturday, Martin Thompson & Son Funeral Home, 6009 Wedgwood Dr.
Faye was born on November 18, 1925 in Talpa, TX. She was a Dental Assistant for over 40 years. Faye loved Ice Cream and enjoyed reading.
Survivors: Sons, Mark Swaim and his wife Jeanette, and Steve Swaim; daughters, Barbara McMurray and Billie Tharp; sister, Marcelean Simpson; ten grandchildren, ten great-grandchildren, and five great-great-great grandchildren; and a host of extended family and friends.
To send flowers to the family of Faye Swaim, please visit Tribute Store
Memorial Service
JUN 28. 01:00 PM Martin Thompson & Son Funeral Home 6009 Wedgwood Drive Fort Worth, TX, US, 76133 martin@martinthompsonfs.com http://martinthompsonfuneralservice.com