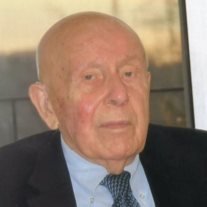 Obituary of Fredrick James Ronicker
Frederick James Ronicker, 95, passed away Friday, June 27, 2014.
Memorial service: 10:30 a.m. Saturday, July 5, in Trinity Terrace Chapel, 1600 Texas St., Fort Worth.
Memorials: In lieu of flowers, donations may be made to the Rotary International Foundation, Rotary International, One Rotary Center, 1560 Sherman Ave., Evanston, Ill. 60201-3698.
Fred was born April 26, 1919, in St. Paul, Minn., to James Robert and Emily Kirkman Ronicker. He served in the United States Army. He was a mining engineer, working at mines in the United States and Canada. Fred was a founding member of the Downtown Rotary Club in Calgary, Alberta, Canada. He enjoyed traveling, reading the Wall Street Journal and stamp collecting.
Survivors: His extended family.
Martin Thompson & Son Funeral Home
Fort Worth, 817-292-2250
To send flowers to the family of Fredrick Ronicker, please visit Tribute Store
Memorial Service
JUL 5. 10:30 AM Trinity Terrace 1600 Texas St. Fort Worth, TX, US, 76102 http://www.retirement.org/trinity/