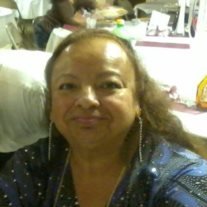 Obituary of Maria Rodriguez
Maria Rodriguez, 67, passed away on Sunday, July 13, 2014.
Service: 11 am Wednesday, St. Andrew Catholic Church, Ft. Worth.
Rosary: 7 pm Tuesday, Martin Thompson & Son Funeral Home, Ft. Worth.
Interment: Mt. Olivet Cemetery, Ft. Worth.
Maria was born on June 4, 1947 in Fort Worth to Ascension and Manuela Mondragon. She enjoyed sewing, embroidering, rug hooking, crossword puzzles, cooking, reading and her grandkids.
Survivors: Husband, Richard Rodriguez; sons, Jesse G. Vargas and wife Lisa, and Roger Rodriguez; daughter, Rochelle Luna; sisters, Yolanda Garcia and her fiancée Andy Dominguez, and Christine Curiel; ten grandchildren; and extended family.
To send flowers to the family of Maria Rodriguez, please visit Tribute Store
Rosary
JUL 15. 07:00 PM Martin Thompson & Son Funeral Home 6009 Wedgwood Drive Fort Worth, TX, US, 76133 martin@martinthompsonfs.com http://martinthompsonfuneralservice.com
Mass of Christian Burial
JUL 16. 11:00 AM St. Andrew Catholic Church 3314 Dryden Rd Fort Worth, TX, US, 76109
Interment
Mt Olivet Cemetery 2301 Sylvania Ave Fort Worth, TX, 76111