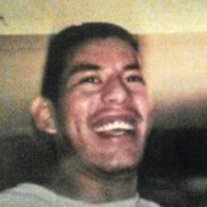 Obituary of Jesse Garcia
Jesse Garcia, passed away on Monday, July 14, 2014.
Visitation: 2 pm - 5 pm Sunday and 10 am - 1 pm Monday, Martin Thompson & Son Funeral Home, 6009 Wedgwood Dr, Ft. Worth.
Jesse is survived by his parents, Aurelio and Irma, six brothers and five sisters.
To send flowers to the family of Jesse Garcia, please visit Tribute Store
Visitation
JUL 20. 02:00 PM - 05:00 PM Martin Thompson & Son Funeral Home 6009 Wedgwood Drive Fort Worth, TX, US, 76133 info@martinthompsonfh.com http://www.martinthompsonfuneralservice.com
Visitation
JUL 21. 10:00 AM - 01:00 PM Martin Thompson & Son Funeral Home 6009 Wedgwood Drive Fort Worth, TX, US, 76133 martin@martinthompsonfs.com http://martinthompsonfuneralservice.com
Interment
Cedar Hill Memorial Park 8301 US 287 Hwy Mansfield, TX,