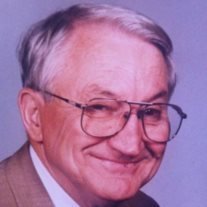 Obituary of Jon Wilcox
FORT WORTH -- Jon Thomas Wilcox, 91, passed away on Tuesday, July 15, 2014.
Memorial services will be held at First Presbyterian Church in Joplin, MO in mid-August. Interment will be at the Dallas-Fort Worth National Cemetery.
Jon was born on August 14, 1922 in Enterprise, Oklahoma to Obe and Imo Wilcox, the seventh of nine children in a pioneer Indian Territory family. He graduated from high school in Coffeyville, Kansas where he played and starred in several sports. Jon served in the United States Army during WWII in the Philippines. Following the war he graduated from the University of Tulsa and was a member of Kappa Alpha. He was a life member of the Masonic Lodge, Boy Scout leader, Presbyterian deacon and elder, avid white-water canoeist and bird dog trainer.
Jon married his wife Ruth after a 4-week courtship and remained married for 61 years. His family was the center of his life.
The family would like to thank the staff of the VA Outpatient Clinic, Courtyards at River Park, and Encompass Hospice for their compassionate care for Jon during his long battle with dementia.
Survivors: Wife Ruth E Wilcox, Fort Worth; sons, Jon T Wilcox and his wife Susan, Fort Worth, Steve Wilcox and his wife Lorie, Fayetteville, AR, and Bruce Wilcox and his wife Lisa, Joplin, MO; brother, Jerry Wilcox, Wichita, KS; four grandchildren and two great-grandchildren.
Martin Thompson & Son Funeral Home
Fort Worth, 817-292-2250
To send flowers to the family of Jon Wilcox, please visit Tribute Store