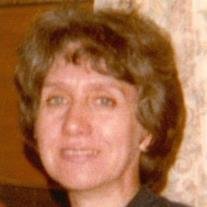 Obituary of Phylliss Jocquelyn Patty
Phylliss Jocquelyn Patty, 81, went into the arms of her Savior on October 16, 2014.
Service: 10:30 am Monday, Martin Thompson & Son Funeral Home, 6009 Wedgwood Dr, where a visitation will be held 3 pm - 5 pm Sunday. Pastor Bob Willhite, presiding.
Interment: Laurel Land Cemetery, Ft. Worth.
Phylliss was born and raised in Porterdale, Georgia, the daughter of James and Viola Vining of Covington, Georgia. She was a graduate Registered Nurse from Georgia Baptist. Phylliss followed her husband to many countries over the years, including long assignments in Antwerp, Belgium, Islamabad, Pakistan, Cairo, Egypt and Port of Spain, Trinidad. She never complained about the harsh conditions in these countries, but helped those in need. Phylliss was a wonderful Christian and spent hours each day reading scripture and studying Christian books. Church was her favorite place.
Survivors: Husband of 59 years, Zora Patty; daughter, Cathy Breschini of Indianapolis; sister, Shirley Kays of Stone Mountain, GA; and brother, Troy Vining of Florida.
Martin Thompson & Son Funeral Home
Fort Worth, 817-292-2250
To send flowers to the family of Phylliss Patty, please visit Tribute Store