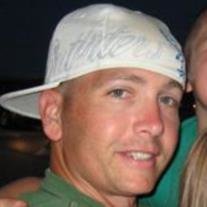 Obituary of Shaun Dale Barnes
Shaun Dale Barnes, age 41, passed away on October 22, 2014 in Fort Worth Texas.
He was born August 17, 1973 in Fort Worth and attended Haltom High School. Shaun overcame many challenges during his short time on earth. He always had a smile and could bring anyone to tears with laughter. He was blessed with two children Max (13) and Kayleigh (9) and enjoyed hunting and fishing. He will forever live in the memories of his family and friends as the one who could do the perfect "Carlton dance".
His memorial will be a celebration of his life set at the special place he enjoyed spending time with his children. This will be a time for the children to gather with everyone that loved their father and share special memories. Shaun always believed laughter was the best medicine.
He is survived by his two children, Maxwell and Kayleigh Barnes; his girlfriend, Patty Dale and his beloved Chihuahua Chica; his first wife and Maxwell and Kayleigh's mother, Julie Barnes; his sister Jana Finch; his sister, Kellie Daniels and spouse Brad; his brother Greg Barnes and spouse Rae, his mother, Shirley Barnes; six nephews, Grant Laster, Jason Rosenquist and spouse Somer, Chad Gentry and fiancé Sheena, Taylor Gentry and spouse Sarah, Garrison Daniels and Carson Daniels; one niece, Rachael Mills and spouse Jesse; two great nieces, Winter White and Emma Key Gentry and numerous aunts, uncles and cousins.
He is proceeded in death by his father, Larry Barnes.
To send flowers to the family of Shaun Barnes, please visit Tribute Store