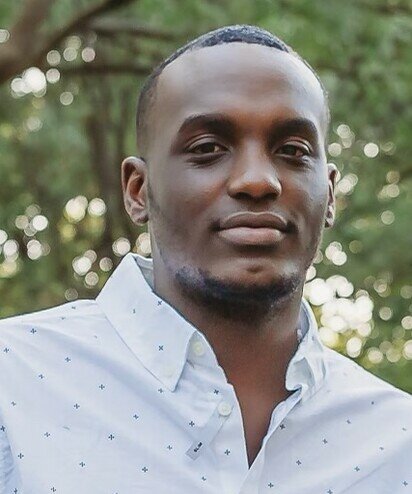 Obituary of Jean Isaac Effa
Please share a memory of Jean to include in a keepsake book for family and friends.
Jean Isaac Effa was the first of four children. His parents were Lisette Carine Effa Souga and Jean Jacques Atangana Effa. Jean Isaac was born in Yaounde, Cameroon on November 8th, 1997, and came to the United States at the age of 11. He continued his education at Winchester Elementary School in West Seneca, NY. Jean Isaac later attended middle school in Orlando, FL and Trinity High School in Euless, TX where he was a talented football player.
Jean Isaac was a brilliant young man and was gifted in drawing. Along with that he was a tremendous salesman and has been ranked among the highest in his team. Jean Isaac was also a great dancer and could rhyme off of any given beat. He produced several of his creative rhythms.
He was an amazing son, brother, cousin, nephew, and friend. His smile and upbeat energy were contagious, and he could brighten up any room. He showed love to any one and was very sociable.
On December 13th, 2022, Jean Isaac was called home to be with the Lord. He was loved dearly and will be missed by all those that knew him.
Left to cherish his memories are: his father Jean Jacques Effa (wife Saintia Dorestal), mother Lisette Carine Effa, sisters (3) Grace, Koko and Victoria Kasisi, his high school sweetheart Kaci Johnson and their unborn son, his uncle Dominique Owona (wife Nadia Matchum), his aunts Marie-Louise Ntollo, Marie-Gisele Owona Effa, Bibiane Ekounda, Sylvie Effa Mengue, Carole Effa Essomba, Marie Angèle Melingui, and a host of cousins and other relatives.
Nécrologie
Né à Yaoundé, Cameroun, le 8 Novembre 1997, Jean Isaac Effa était l'ainé de quatre enfants. Ses parents sont Lisette Carine Effa Souga et Jean Jacques Atangana Effa.
Jean Isaac arriva aux Etats Unis à l'âge de 11 ans et poursuivit ses études primaires à l'école Winchester Elementary à West Seneca, NY. Par la suite il fit ses études secondaires à Orlando, FL et Trinity High School à Euless, TX, où il se distingua en tant que joueur de football.
Jean Isaac était un jeune homme brillant et un vendeur hors pair, très apprécié par son équipe de travail. Il était également doté d'un talent artistique, doué pour le dessin, la danse, et était capable d'improviser sur n'importe quel beat musical. Il a produit plusieurs de ses propres créations musicales.
Jean Isaac était un fils, un frère, un cousin, un neveu et un ami exceptionnel. Son sourire et son énergie positive étaient contagieux, et il pouvait illuminer une pièce par sa simple présence. Il savait faire preuve de gentillesse et de générosité envers tout le monde et avait le contact facile.
Le 13 décembre 2022 Jean Isaac s'en est allé rejoindre le Seigneur. Son départ soudain plonge dans la tristesse tous ceux qui l'ont connu.
Il restera à jamais dans le cœur de son père Jean Jacques Effa (epse Saintia Dorestal), sa mère Lisette Carine Effa, ses trois sœurs Grace, Koko and Victoria Kasisi, sa compagne Kaci Johnson et leur fils à naitre, son oncle Dominique Owona (epse Nadia Matchum), ses tantes Marie-Louise Ntollo, Marie-Gisele Owona Effa, Bibiane Ekounda, Sylvie Effa Mengue, Carole Effa Essomba, Marie Angèle Melingui, et un grand nombre de cousins et autres membres de famille.