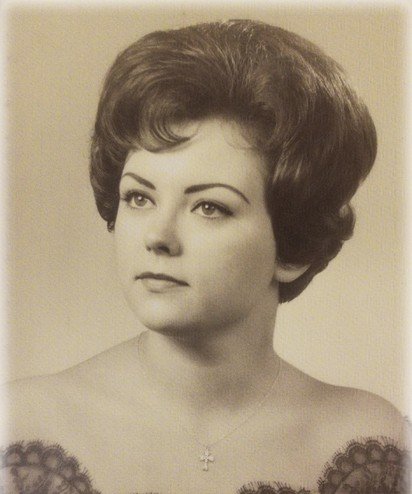 Obituary of Sheila Ann Johnson
Sheila Ann (McDermott) Johnson, of Ft. Worth, Texas, departed this life on the afternoon of Thursday, January 2nd after a battle with cancer and COPD. She is now happy and healthy and in the presence of Christ. Service: 10 Saturday, St. Christopher Episcopal Church, 3550 SW Loop 820, Ft. Worth, where the family will receive friends from 9 am – 10 Am. Sheila was born on September 27, 1943, in Indianapolis, Indiana. In her early childhood, the family relocated to Weatherford, Texas. She graduated from Weatherford High School in 1961 and attended Weatherford Jr. College. Sheila married Don Glenn on July 25, 1964. Together they had son Matthew Bryan on March 21, 1965, daughter Tracy Beth on December 17, 1966, and daughter Amanda Leigh on May 14, 1975. After retiring from Comet Cleaners in 1974, she had a brief stint as a stay-at-home mom before going to work at Dr. Pepper in the accounting department in 1978. Sheila married Lou Johnson on June 5, 1986. She retired from Dr. Pepper in 2000 after 22 years of service. After moving to Ft. Worth in 2004, she finally had the swimming pool that she had always wanted. Her house was "the cool house" where her children's friends came to visit (many times when the kids weren't even home). Many were still in touch with her until her passing. Her passions were her dogs over the years, all things horse racing and racehorses, genealogy and history. She was an avid visitor to Cancun, Mexico, where she and Lou held a time-share for many years. Friends and family over the years went on trips with Sheila and Lou to their place at Baccara, where the laughs were non-stop. X Sheila is survived by her husband, Lou Johnson; son, Matthew Glenn of Ft. Worth and partner Brenda Beam of Grand Prairie, Texas; granddaughters, Amanda Masey May of Greyson, Louisiana, Leslie Glenn of Newberry, South Carolina, KayLyn Hammonds of Grand Prairie, Texas, and grandson, Jarrod Hammonds of Ft Worth, Texas; great-grandson Landon May and great-granddaughter Reagan May both of Greyson, Louisiana; daughter Tracy Glenn-Applegate and her husband Vernon Applegate of White Oak, Texas; grandson Wyatt Applegate of White Oak, Texas; daughter Mandy Glen-Clay and her husband Johnathan Clay of Ft. Worth, Texas; grandson Aidan Glenn of Ft. Worth, Texas; Son Scott Johnson and his wife Lori Johnson of McKinney, Texas; granddaughter Brice Johnson and grandson Tyler Johnson both of McKinney, Texas; Sister, Sandy Allen and her Husband Ed Allen of Longmont, Colorado; Sister Patricia and Ronnie McCarty of Keller, Texas. Sheila is preceded in death by her Mother and Father, Peter J. McDermott and Hazel T. Gooch McDermott. In lieu of flowers, please send donations to Old Friends Senior Dog Sanctuary at https://ofsds.org or Sherry Strong (Surviving Ovarian Cancer) at https://www.sherrystrong.org.
Visitation
6:00 pm - 8:00 pm
Friday, January 10, 2020
Martin Thompson & Son Funeral Home
6009 Wedgwood Dr.
Fort Worth , Texas, United States
817-292-2250
Reception
9:00 am - 10:00 am
Saturday, January 11, 2020
St. Christopher Episcopal Church
3550 SW Loop 820
Fort Worth, Texas, United States
(817) 926-8277
Service
10:00 am
Saturday, January 11, 2020
St. Christopher Episcopal Church
3550 SW Loop 820
Fort Worth, Texas, United States
(817) 926-8277