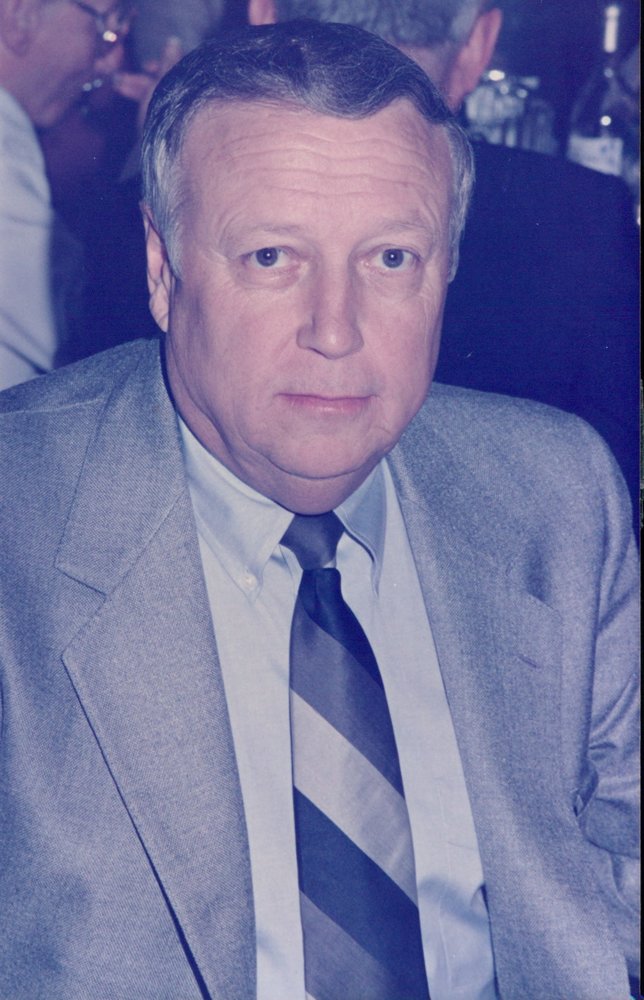 Obituary of Bobby Dale James
Bob James went to his heavenly reward on, Wednesday, November 27.
Memorial Service: 1:30 pm Tuesday, Martin Thompson & Son Funeral Home, 6009 Wedgwood Dr., Carol Record a lifelong friend will officiate.
Bob was born January 9, 1929 in Hamilton, Texas to Graham and Lura James.
He was a businessman in the oil industry until his retirement in 1986 and an investor in real estate. Bob served in the United States Marine Corp from 1946 – 1950. He was with the first Marines that landed on mainland China in 1949 and helped escort Chiang Kai-shek and his family from China to Taiwan. Bob was chosen to attend Sea School which only invited the best Marines to participate. He served on the USS Atlanta during his sea duty. At the time of his discharge he was a Corporal and in line to be promoted to Sergeant. Bob was awarded the China Service Medal and Navy Occupation Service Medal with the Asia Clasp.
Upon his return to the United States he attended TCU and began his business career. His natural ability in engineering and math contributed to his success. When he worked Stratoflex Corp he was responsible for setting up a new office and hiring all employees in Ft. Wayne, Indiana where he was General Manager. His next assignment was to set up a new Statoflex office in Los Angeles, California and became General Manager there.
After his years with Stratoflex he began a 30 year career with G. A. Mosites Company. Bob was President of the Company for 18 years and Chairman o the Board of G. A. Mosites Co., Mosites Rubber Co. and Media Valve.
Bob married his wife Ruth in 1977. Both of them loved Arabians and enjoyed showing horses. They owned Diamonite, 1979 US National Champion Hunter and Famest 1983 US National Champion Working Cow Horse. He showed Famest in Cutting Horse and was 1985 Scottsdale Top Ten Non Pro Cutting, 1986 Region 9 Champion Non Pro Cutting and 1986 Region 9 Top 5 Open Cutting. He was named Rookie of the year. Bob became a Lifetime Member of th National Cutting Horse Assn and purchased the AQHA gelding Sugar Holly Doc. They enjoyed success in the Non Pro Division and he completed Doc's points for his certificate of Achievement.
Bob and Ruth enjoyed traveling. They made many trips to Scottsdale, Arizona and Estes Park, Colorado and the east coast of Jekyll Island, St Simon Island, Hilton Head Island and Amelia Island. They took cruises to the Caribbean Islands, Alaska, Venice, Monte Carlo, Yugoslavia, Turkey, Norway, Sweden and England. They also traveled through France and Italy.
His memberships included Riglea Country Club, Colonial Country Club (35 years), the Ft. Worth Petroleum Club, National Cutting Horse Assn (Life Member), Arabian Horse Assn, Treasurer of the North Texas Arabian Horse club, Treasurer of the Ft Worth Horseshoe Club, President of the Breakfast Tips Club, American Horse Show Assn and the Kimbell Art Museum.
Bob was preceded in death by his parents, Graham and Lura James and his sister Wanda Abshire. He is survived by his wife of 42 years Ruth James. She is grateful for the excellent care given by Dr. Stuart Pickell, Dr Poon, the nurses at Harris Hospital and the care givers at Universal Hospice.
Memorial Service
1:30 pm
Tuesday, December 3, 2019
Martin Thompson & Son Funeral Home
6009 Wedgwood Dr.
Fort Worth , Texas, United States
817-292-2250