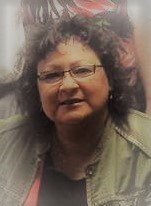 Obituary of Esmeralda Lujan
Esmeralda "Esmee" Lopez Lujan, age 60 of Arlington, passed away peacefully on Friday, February 1, 2019. She was born to the late Francisco Lopez and Elvira Garcia Lopez on February 14, 1958.
Esmee attended Rotan public schools before moving to Lubbock in 1977 where she earned her cosmetology/beautician license. In 1978, she moved to Arlington where she pursued her lifetime career as a beautician.
As single parent, she raised her son Jerome, gained daughter-in-law Julie followed by two loving grandchildren, Adrian and Celine whom she adored. She loved family and cherished the time spent with her Mother, siblings and extended family which brought her much joy.
Esmee is survived by her son, Jerome; daughter-in-law, Julie; two grandchildren, Adrian and Celine; mother, Elvira Garcia Lopez; one sister, Monica Campos; five brothers, Frank, Mario, Noel, Benny and Herman; numerous nieces, nephews, aunts, uncles, cousins and friends.
A private remembrance was held in Fort Worth. The family wishes to thank everyone for the support and love expressed during this difficult time.