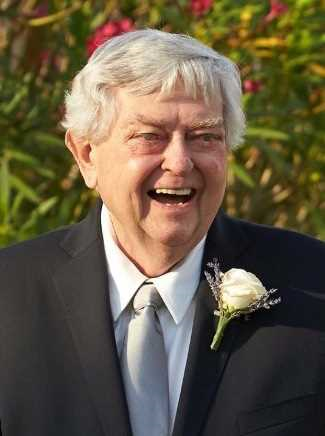 Obituary of James B. Baker III
James B. Baker III, "Bob," passed away peacefully, surrounded by his family on Christmas morning, December 25, 2018, just shy of his 88th birthday.
Bob was a force of life and source of big laughs and deep love. He brightened the lives of everyone around him. We celebrate a life well-lived. He is survived by his loving wife of 50 years, Earline Dunphy Baker; daughter, Ashley Baker Greer; son-in-law, Lance Greer; and granddaughter, Windsor Elizabeth, of La Jolla, California.
Bob was a loving, generous, kind gentleman, with an engaging personality and sharp wit. He was hilarious and kept everyone in stiches. Bob embodied Joie de vivre. He was fondly known to his family and friends as Bobbles and Chef-Bob. He loved his friends and laughing over a glass of Pinot Noir. He enjoyed gourmet restaurants, travel, museums, architecture, gardens, and interior design. Bob loved the art of living; he appreciated everything beautiful and had impeccable taste. His last great European vacation was on his 45th wedding anniversary in Italy. He meticulously helped plan and whole-heartedly celebrated his daughter's destination wedding in the Tuscan countryside, outside the historic hill town of Montalcino in the province of Siena. Chef-Bob was a master in the kitchen, and as a true Texan, loved anything beef. From his perfectly crafted "Steak and Bake" to his Panko-crusted meyer lemon chicken, his kitchen was a special place where he recreated, with zest, beloved family recipes – especially his mother's famous lemon chess pie. He and Earline treasured their time in California visiting their daughter Ashley, her family, and friends. On his last trip to La Jolla, they celebrated their Golden 50th wedding anniversary with a sunset dinner overlooking the Pacific.
Born in Fort Worth, Texas on February 9, 1931 to Mr. J. B. Baker Jr. and Elizabeth Abbott Baker, he was a member of the pioneering Baker family. They were originally from England and moved to Fort Worth in 1869. The Bakers were best known for real estate development and for Baker Bros. Nursery, which was established by his grandfather, James B. Baker in Fort Worth, Texas in 1884 and was in business for 103 years. . James rode horseback throughout Texas selling nursery stock. Their nursery catalogs, which have been found dating to 1892, featured trees, shrubs, seeds and cut flowers, were mailed throughout Texas. Some of their major landscape projects included the city of Los Alamos, New Mexico, American Airlines, Fort Worth Convention Center and Texas Christian University. One of the notable anecdotes of the Baker Bros. history, the Bakers furnished the elm tree that President Theodore Roosevelt planted in front of the downtown Fort Worth Library in 1904.
Bob graduated from Carter-Riverside High School, where he was voted in his yearbook "Senior Favorite", attended Texas A&M University and graduated from Texas Tech in 1953 with a degree in horticulture and landscape architecture. He was a member of Phi Delta Theta fraternity and ROTC. After graduation he proudly served his country as an officer in the United States Air Force. After the service, he joined the family nursery business where he worked until his retirement. He was a lifetime member of First United Methodist Church in Fort Worth, as well as a member of many professional nursery associations and clubs, such as The Kiwanis Club of Fort Worth, The Fort Worth Jaycees and The Fort Worth Botanic Garden, where he walked daily in the Japanese Garden and especially enjoyed the fall color of the maple trees. A memorial tree will be planted in his memory in his beloved Japanese Garden.
Bob's wish was that no formal funeral be held, but rather a gathering to celebrate his life at a later date in La Jolla, California.
In lieu of flowers, the family suggests memorial gifts be made to First United Methodist Church of Fort Worth or The Fort Worth Japanese Garden.