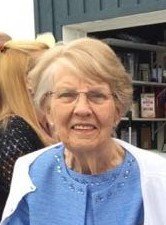 Obituary of Catherine Wheeler
Catherine Collins Wheeler, 84, passed away on Friday, August 31, 2018, surrounded by her loving family. A memorial service will be held at 1pm Monday, September 3, at Martin Thompson & Son Funeral Home, 6009 Wedgwood Dr., Fort Worth, TX. The Wheeler family wishes expressions of sympathy be made to the Alzheimer's Association.
Catherine was born October 31, 1933, in Chazy, New York. The daughter of Francis and Margaret Collins, Catherine was a graduate of Chazy Central Rural High School and Plattsburgh Business School. She worked many years as a dental assistant in Norwich, Connecticut.
Catherine loved to read, travel, listen to Irish music, and most of all spend time with her children and grandchildren. She was preceded in death by her parents, two sisters Mary and Theresa, and three brothers Pat, Mike, and John.
Catherine is survived by her husband of 65 years, Leon Wheeler of Fort Worth; and seven children - Martha Staron of Mulberry, FL, Kathleen Wheeler of Imlay City, MI, Margaret Bergmann and Mike Tetreault of Fort Worth, Patrick Wheeler and wife Jeannie of East Granby, CT. Beth Sullivan and husband John of Jewett City, CT, Mike Wheeler and wife April of Surrey, ND, and Kevin Wheeler and wife Jacquie of Fort Worth; 12 grandchildren, 13 great grandchildren, and extended family.