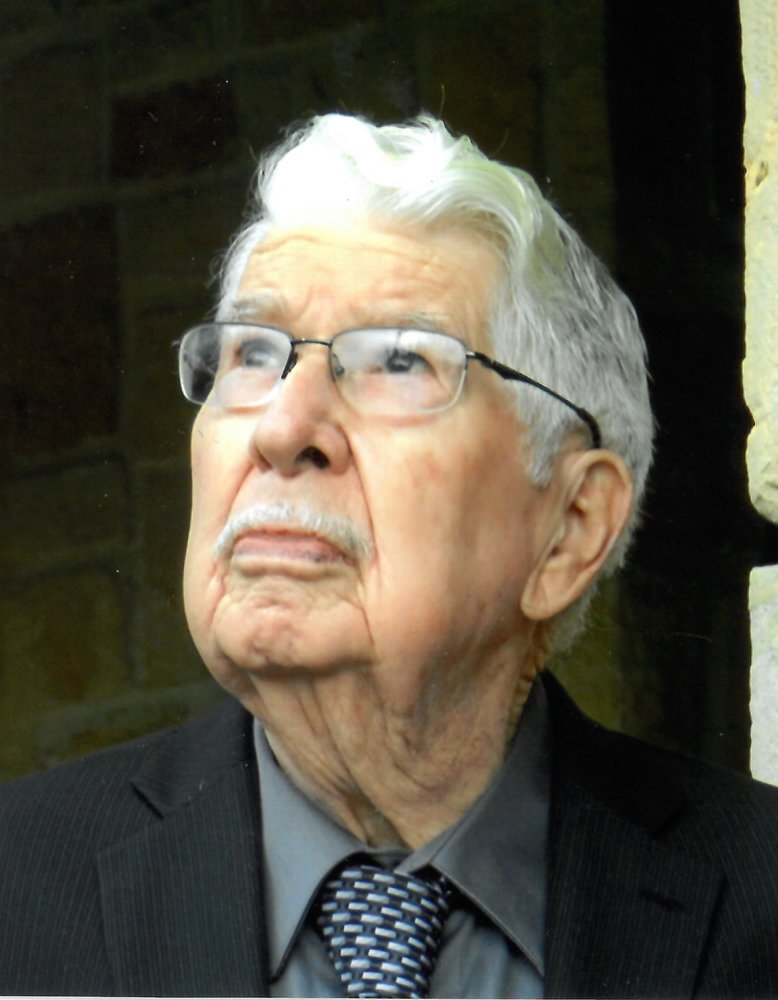 Obituary of Richard Lingle
Richard Marvin Lingle, age 93, passed away peacefully in his sleep on the evening of May 1st, 2018 at his daughter's home in Southlake, Texas.
He was born at home at his family's home in Osceola, Iowa, on March 28th, 1925, to A.P. and Katheryn Lingle . He was the youngest of three children, having two sisters, Marian (Maxine) and Miriam. Richard grew up having many adventures, including hitch-hiking to Omaha, Nebraska as a teenager to take up a young lady's offer to "come and visit me sometime."In fact, hitch-hiking became a mode of travel for him the next ten years as he hitch-hiked from Iowa to California and back more than once. He began working at an early age in many jobs, including type-setter for the community newspaper. He was an intelligent young man who had many interests and talents, including having a beautiful singing voice. In fact, all of his life, especially as an adult, he had a wonderful ear for music and enjoyed it immensely. While in high school, the infamous attack on Pearl Harbor took place. Shortly after the end of the first semester of his senior year, Richard expressed concern about school in general to his parents (not to mention that the school teachers and officials had different concerns!) In a meeting with the principal and his father, Richard , often called "Dick" by friends and acquaintances, explained that he had taught the teachers all that he could and was ready to enlist in the Navy. He did just that. Only 17 years old, he was on his way to Great Lakes Naval Training Center. Richard became a Radarman and was involved in major Allied invasions in both the Atlantic and Pacific theatres, including Anzio, Naples, Sicily, North Africa and Okinawa. At Okinawa, his destroyer, the USS Roper, was hit by a kamikaze.
After his service, Dick moved to Southern California where his parents had relocated to during the war. He became an expert car painter, complimenting his father's car repair business. Living on that same street as the Lingle family was Catherine Griffo, a beautiful young lady of Italian descent. Catherine's beauty and smile soon caught Richard's eye and, after only 3 months, Richard and Catherine eloped and got married on July 3rd, 1949 at the Wee Kirk o'the Heather Wedding Chapel in Las Vegas. Not long after this, having a strong interest and knowledge of radios and its technology, Richard enrolled in a technical school where he was trained as an electronic engineering technician. He was later hired at internationally known Beckman Instruments located in Fullerton. He retired after 45 years of top quality work on engineering instruments including spectrophotometers.
In the meantime, the newlyweds soon became parents to their first child, Everett King (E.K.). Not far behind came their other children Roger Curtis, Charise Marie, Darla Jean, and finally Darryl Alan. In the midst of starting their family, they purchased a new house in the developing community of Anaheim, CA. It was here that they raised their five children and lived for 62 years and had recently celebrated 67 years of marriage. Richard took up many new ventures while in Anaheim: oil painting, writing his memoirs of his time in the Navy, manufacturing Nernst glowers, being a certified locksmith and especially keeping the Opinion sections of local newspapers full of his insights and recommendations for improvement of society. After the many wonderful years, laughter and memories on Bush Street, Richard and Catherine moved to Southlake, Texas to live with their daughter when Catherine's health began to suffer. Catherine passed away in September, 2016.
He is survived by all of his children, eleven Grandchildren and twelve Great-Grandchildren. He was preceded in death by his wife, parents, his two sisters, and many cherished relatives and friends.
Richard's lasting legacy is not one of temporal things of this world, but in his wonderful love and support for his family. He always enjoyed telling stories of his youthful adventures and his experiences in the Navy. His children could always depend on him for some good music, advice, encouragement, and education in world affairs as he saw them. Richard certainly was one of "the Greatest Generation." He was sharp-minded and witty up to the very end. He will be greatly missed by all who knew him.
Services will be held on Tuesday, May 8th, 1:00 pm, at Dallas/Ft. Worth National Cemetery.