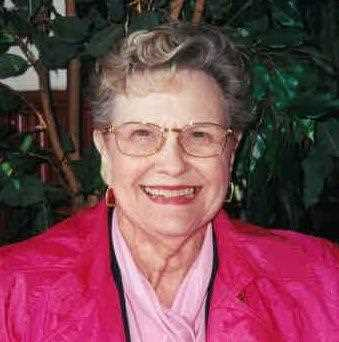 Obituary of Peggey Jo Tobias Bailey
"Toby" Peggey Jo Tobias Bailey
On January 22, 1929, at Baylor Hospital of Dallas, a baby girl was born to Myrlen and Juanita
Swain Brown. Two months later, that VERY lucky baby girl was adopted by Ross and Ollie Moore Tobias who named her Peggey Jo Tobias. Peggey grew up in Benchley and Wheelock and graduated from Franklin High School in 1946.
After two years at TWC she married Thomas Morgan Bailey, Jr., on August 29, 1948. With a daughter and son, Toby stayed home and was a Sunday School teacher, Scout leader, room mother, etc. until she went back to college in 1965. She substitute-taught at Bryan Adams High School for several years before and after she graduated from NTSU in 1972.
In 1974, Toby "fell into" a job with Radiology Associates of Dallas, whose practice was at Baylor University Medical Center. She loved her job as a radiology transcriptionist and was the radiologist's permanent-temporary employee for 23 years before she retired in 1997.
Tom and Toby moved to Rockwall in 1993. In retirement, Toby volunteered at First United Methodist Church in Rockwall and at the Rockwall County Library and enjoyed her book clubs. She loved to needlepoint, to read, to be with friends, and most of all, to be with her family.
She is survived by her children Donalee Bailey and Kenneth Ray Williams of Little Rock, AR. (Ryan Bailey and Hillary) ; T. Ross and Mary Bailey of Fort Worth, TX (Lauren and Courtney); nieces and nephews Kitty and Dr. Paul LaVeau (Paul J., Brandon Thomas and Sky); Karen and Darden Jones (Thomas Darden and Brock Houston); and Burt Thomas and Diane Bailey (Eric Thomas). She will also be remembered by her many "surrogate kids" and dear friends for her integrity, congeniality, sense of humor, & enjoyment of reading.
The family is especially thankful to the staff at Autumn Leaves Memory Care Cityview and the New Hope Hospice for their outstanding care.
A memorial service will be held on Monday, February 12th at 10a. Rockwall First Methodist Church.