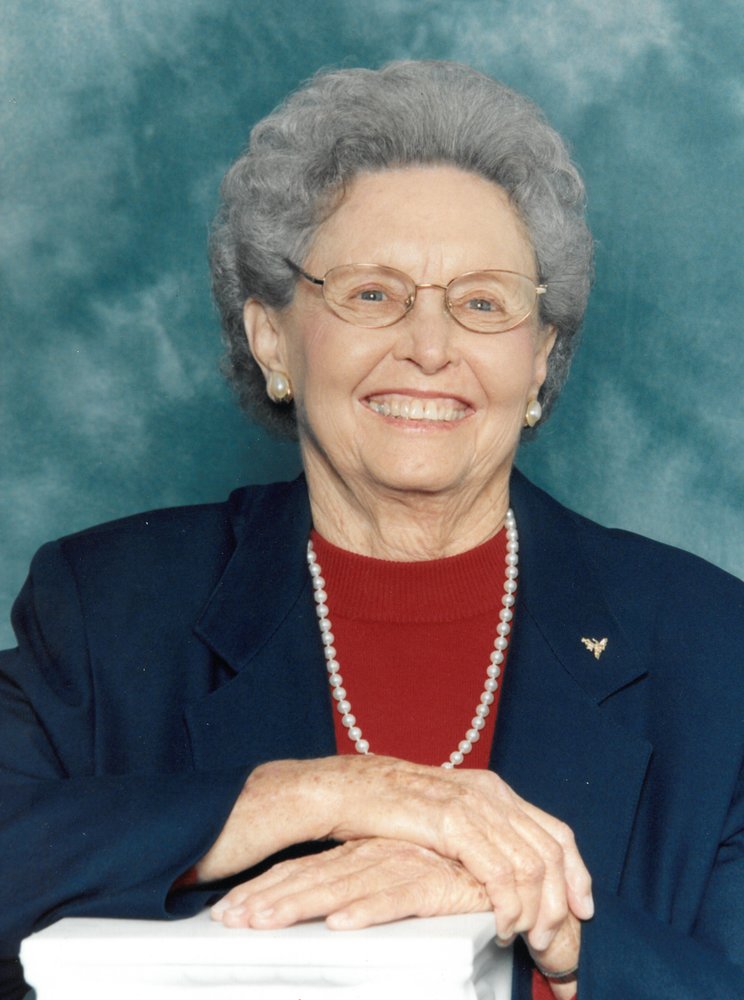 Obituary of Dorothy Meek
Dorothy Dell Meek, born June 13, 1923 was welcomed into the arms of our Lord on Friday, January 12, 2018, at the blessed age of 94.
Celebration of Life Memorial service will be held 1 pm, Tuesday, Shady Grove Baptist Church, 6649 Precinct Line Rd, North Richland Hills, TX.
Visitation will follow in the church fellowship hall.
Burial will be in Bluebonnet Hills Cemetery, Colleyville, TX.
One of five children, she was born in Sedwick, Texas , June 13, 1923 to Urie and Florence Hammons. She was preceded in death by the great love of her life, her husband of 53 years, Kenneth E. Meek; two sisters, Gladys Macon, MaryElla Cook; two brothers, Darrell Hammons, Leon Hammons; daughter, Linda Kay Turk; grandson-in-law, David Goertz; and great grandson, Garrett Goertz.
Even though Dorothy lived with the heartaches of death, losing many of her beloved family members, she continued to bless others with her determination, love for life and the Lord, and being a servant to her church, Shady Grove Baptist Church. She took her position there very seriously as their greeter, welcoming everyone on Sunday mornings. Her greatest gift was helping others. She spent hours on the phone coordinating food, starting the prayer chain, and getting help for anything going on at the church. Vacation Bible School was one of her favorite events to coordinate. She and Kenneth had been involved in church work throughout their lifetime. They loved their large church family!
She and Kenneth would take time off every fall to enjoy the outdoors in their RV where they made friends all along their journeys. Strangers were not a word in their vocabulary.
She could be seen daily sitting in her "decorated garage", taking a break from gardening in her yard. She would wave to all her neighbors whom she loved so much, as they drove by. Many hours were spent on her front porch visiting with parents waiting on school children and watching football practice.
When mom became unable to stay at home, her circle of friends grew even larger. The nurses, aides, and entire staff at The Landing at Watermere became not only friends but "angels" to her and all our family. They treated her as their own and blessed her with their love and devotion for many months!! Our hearts were always warmed by their presence.
Survivors: She leaves behind to cherish her memories, her daughter, Beverly Tate and husband Tony of Southlake, TX; Grandkids: Deanna Goertz and family of Keller, TX; Chad Tate and family of Grapevine, TX; Ryan Tate and family of Grapevine, TX; Kim Bailey and family, of North Pole, Alaska; Kenny Pelham and family of Anna, TX; Michael Pelham and family of Woodbridge, VA; 11 great grandkids and 10 great-great grandkids; sisters-in-law, Margie Toombs and husband Doug of Pep, NM; brother-in-law, Dale Meek and wife Nina of Barstow, CA and many beloved nieces, nephews and other family members, along with a lifetime of friends!!
Thank you Lord for the many years you gave us to share her stories and her love. She will be dearly missed!!!