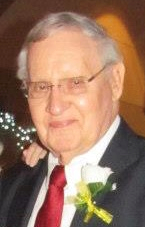 Obituary of Clarence Curie, Jr.
Clarence H Curie Jr, 88, departed this world to be with our Lord and Father on Saturday, December 2, 2017.
Clarence was a devoted, loving, gentle and nurturing husband, father, grandfather and great-grandfather. He was born on November 4, 1929, in Orrville, Ohio. Clarence graduated from Orrville High School and attended college classes at Akron University in Ohio.
In 1949, Clarence married Mae Louise Arnold. They were blessed with five children, Jackie, Jim, Jeanne, Jan and Jerri. The family moved from Ohio to Southern California in 1959, where he worked as an accountant with Host International. In 1972 he was transferred to Houston, Texas, where they lived, for 29 years. He retired in 1994. He and Mae moved to Humble, Texas, in 2001, to be closer to their son, Jim Curie, to assist him with his business. Then they moved to Granbury, Texas in 2015. During his retirement, he was active in the Methodist church both in Humble and Granbury. He loved family above all else, and will be greatly missed by all who knew him.
Survivors: include wife, Mae, five children, Jackie Patterson of Granbury, James Curie, and wife Debbie, of Humble, Jeanne Smith of Denton, Janice Coker and husband Dale of Granbury and Jerri Lynn Crisp, of Norman, OK, 6 grandchildren and 7 great-grandchildren.
Clarence was preceded in death by his grandson, "JR" Roy Dale Smith, his parents, Beulah and Clarence H Curie Sr, his sister, Marie Mills, brothers, Bill, Pete and Bob Curie, sons in law Roger Crisp and Don Patterson.
There will be a Celebration of Life on Saturday, Dec. 9th, 2017 at the Gardens of DeCordova in Granbury, from 1pm to 4pm. It will be a "Come and Go" Open House, with his family and friends sharing many great memories.
In lieu of any flowers, the family requests that donations to be made to Acton Methodist Church in Clarence's name.
The family wants to thank Encompass Home Health and Hospice for the wonderful care they provided to Clarence during his final months and days.