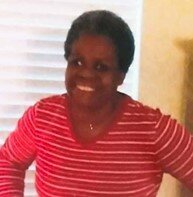 Obituary of Barbara Jean Major
Graveside Service: 11 a.m. Thursday, December 16, 2021, at Skyvue Memorial Gardens, 7220 Rendon Bloodworth Rd. Mansfield TX 76063.
Barbara Jean Major, 62, ascended to Heaven on Wednesday, November 24, 2021, in Fort Worth, Texas.
Barbara was the third of three children born to Barbara Kaye Watson on July 16, 1959, in Amarillo, Texas.
She grew up and attended school in Amarillo before moving to Fort Worth ten years ago. Barbara loved to listen to music, dance, and spend time with family.
She was preceded in death by her: Mother, Barbara K. Watson of Amarillo; brother, James Major of Amarillo; grandmother, Lovie McBride of Amarillo; aunts, Olevia Hoyle of Arizona, and Helen Cleaves of Fort Worth.
Barbara Jean will forever be cherished in the hearts of her family: Daughter, Laura M Watson; grandchildren, LaVesa Jones, Felicia Watson, and Robert Woody; brothers, David Cornelius, and Lorenzo Major both of Amarillo; and a host of nieces, nephews, and other relatives and dear friends.