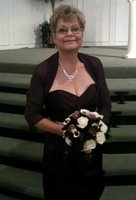 Toni Renee Vaughan
Toni Renee Vaughan, 55, passed away on Monday, February 10, 2014.
Memorial Service: 10 am Saturday, Western Hills Church of Christ, 8800 Chapin Road, Ft. Worth.
Toni was born on June 27, 1958 in Los Angeles, California to Jeannette and Darrell Rolison. She loved writing poetry, garage sales, sewing, crafts, cooking and singing. Toni would often speak to ladies groups about her love of Christ and sharing her story. She was an active member and volunteer at Western Hills Church of Christ. She enjoyed working in their Food Bank, teaching Bible classes, and preparing meals for those who were hurting. She was a former house mom at the Hands of Compassion, a place for patients and families to stay while at the Mayo Clinic in Rochester, MN. Toni also had been a member of the Saginaw Citizens on Patrol, where her servant heart often saved lives and brought comfort to others at the scene of many automobile accidents. She will be greatly missed by all who knew her.
Survivors: Son, Chris Vaughan and wife Jordana; daughter, Jenny Vaughan and fiancé Tim Marshall; mother, Jeannette Rolison; grandson, Jayden Vaughan; sister, Diana Kinser and husband Clay; niece, Leslie Toombs; nephew, Ryan Toombs; and a host of extended family and friends.