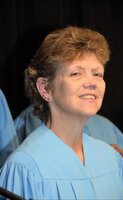 Teresa Lynne Sanborn
Teresa Lynne Sanborn passed away peacefully on May 19, 2023 at the age of 62. Surrounded by family and friends as she bravely fought against cancer, Teresa held steadfast to her unshakeable faith in Christ.
Teresa was known for her love of Jesus, her angelic voice, and passion for cats.
Teresa was born in Atlanta, Georgia to Joseph and Laura McBride on November 25, 1960.
Teresa is survived by her husband Daniel Sanborn, her sons, Paul [Kristine] Sanborn and Jeffery Sanborn, her grandson Joshua Sanborn, her father Joseph McBride, her brothers Carey McBride, Wade McBride, and Joseph McBride, her sister Leanne Kimberlin, and numerous nieces and nephews.
Teresa is preceded in death by her mother Laura McBride, and nephew Josh [Erin] Kimberlin.
We celebrate and honor her life as a wife, mother, daughter, sister, aunt, and friend. A celebration of life service will be held Saturday, June 3, 2023 at 10am at Life Connection Church, 208 Nutmeg Lane, Euless, TX.
In lieu of flowers, donations may be made to the God With Skin Ministry at Life Connection Church.