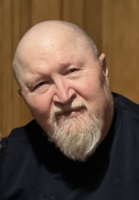 Randal Bartly Betts
Randal Bartly "Poppa, Dad, and Sweetheart" Betts passed away peacefully on May 8, 2023, at the age of 80, surrounded by family. Known for the twinkle in his eye, his quick humor, his innate curiosity, and his quirky poems, Bartly was a kind soul who always saw the best in people.
He was born in Lethbridge, Alberta, Canada on May 28, 1942, the youngest of Howard and Doris (Hovey) Betts' four children. His early years were spent in the Alberta villages of Raymond and Rosemary where he rode horses, including bucking broncos, played high school football, and generally made mischief with his best friend Bryan Tillack.
Bartly served a mission for the Church of Jesus Christ of Latter-Day Saints in the Central Atlantic States Mission, after which he enrolled at Brigham Young University where within the first month of school he met and fell in love with his future wife of 58 years, Jacqueline "Jaqui" Mae Stoddard. They married six weeks later, on November 26, 1964 in the Cardston, Alberta, Canada temple.
After working for several years as a journalist, first in Nebraska then in Edmonton and Calgary, Alberta, Bartly joined his father working in their leather repair and saddle making shop in Rosemary, Alberta. They soon expanded to a larger shop in Brooks, Alberta where he repaired cowboy's muck-encrusted boots and created custom leather work including saddles, vests, and chaps. In 1984, after teaching himself the emerging technology of computers, the family (Bartly, Jaqui, their 10 children, and Bartly's parents) moved to Fort Worth, Texas where Bartly wrote user manuals for Tandy Computers. In 1989, Bartly was offered a job writing user manuals for a small tech startup called Microsoft, so the family moved to the Seattle, Washington area. Bartly retired from Microsoft in 1998. In his retirement he enjoyed reading, writing poetry and spending time with Jaqui. They returned to Texas last year to live with their daughter and son-in-law.
Bartly is survived by his wife, Jaqui, and children Jessica Sonsel (Douglas) Rupp, Eric Corbin (Misse), Shawndra Lin (Paul) Johnson, Tandy Laurell (Eric) Imhoff, Lusannah "Anna" Marlane (Sean) Vermeulen, Ayrian Shalee (Peter) Ott, Damon Cayle (Sarah), and Adam Jerrin, plus his 11 grandchildren. He is also survived by his brother Colin. Bartly was preceded in death by his children Chantry D'Leen and Kadin Thane, his parents Howard and Doris Betts, and siblings Denise Layman and Roderick Galen Betts.
A private celebration of life will be held for family and friends on Saturday, May 13, 2023. In lieu of flowers, please consider donations to Heifer International, the Michael J. Fox Foundation for Parkinson's Research or a charity of your choosing.