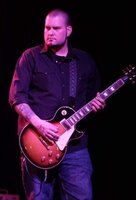 Jarrod Jacob Lookingbill
Jarrod Jacob Lookingbill, 39, passed away at home in Burleson surrounded by family on March 8, 2023.
Jarrod was born on July 23, 1983, in Fort Worth to Gary and Debra (Weehunt) Lookingbill; he was the youngest of three boys.
First and foremost, Jarrod was a loving father whose biggest passion was his family. He was a gifted self-taught musician playing both guitar and the drums. He had a deep love for American muscle cars, music, cosplay, Indiana Jones, Batman & the almighty Ghostbusters.
Jarrod is preceded in death by his brother, Adam Lookingbill as well as both sets of his grandparents.
He is survived by his parents, Gary and Debra Lookingbill; brother, Brian Lookingbill; daughter, Rayne Porter; fiancé, Amber Knight; and numerous aunts, uncles, cousins and friends.
While we are sad Jarrod is no longer with us, we rejoice in knowing we will see him again one day.