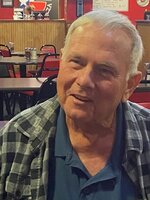 Danny Wilson Poole
Danny Wilson Poole, loyal, strong, kind, and a loving husband and father passed away at age 71 on Wednesday March 8, 2023.
He was born in Grand Saline, Texas to Richard and Wynona Poole.
Danny retired from Oncor after 47 years.
He is survived by his wife of 50 years, Pam Poole; son, Kerry Poole; grandson, Jacob Bonno; brother, Barry Poole and many cousins, nieces and nephews.
No public service is planned.