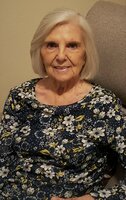 Johnnie Handley
Johnnie Holcomb Handley, 86, passed away on November 12, 2022, in Aledo, Texas.
Johnnie was born in Sand Hill, Texas to John and Jewell Holcomb and was a long-time resident of Amarillo, Texas.
She enjoyed her Red Hat Lady group and was a 50-year long member of Beta Sigma Phi Sorority, both groups provided her many dear friends.
She was a wonderful mother, grandmother, and friend. She will be missed by everyone who was fortunate enough to meet her.
She is survived by her three sons, Michael, Rickie, and Dickie; seven grandchildren; nine great grandchildren; three sisters, Juanita, Alice, Elaine; and brother, Matt.