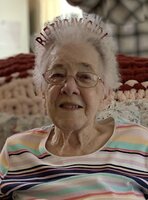 Ella Mae Robinette
Ella Mae Robinette, 91, passed away on October 27, 2022, in Denton, Texas.
Ella was born in Lubbock Texas to Horace Edward Gililland and Ruby Mae Kelly. She is the eldest of Edward and Ruby's four children. She graduated from Seagraves High School in 1950 and went on to marry the love of her life, Jack C. Robinette on November 20, 1953.
After her marriage to Jack, the couple had two children, Deana and Del Sr. She worked as a bookkeeper, did some accounting work, as a factory worker and a cook.
In her free time Ella loved bible study, fellowship with family and friends, gospel music, and singing in church, these are the things that truly brought her joy. Her family and friends said she never met a stranger and could carry on a conversation with anyone. She was a great cook; her casseroles and turkey and dressing were the highlight of many gatherings with family and friends.
While we are sad she is gone, we take comfort in knowing she is in Heaven and we will see her again.
Ella is preceded in death by her husband, Jack C. Robinette; her son, Del Sr.; her parents, Horace and Ruby Gililland; and her sister, Glenda.
She is survived by her daughter, Deana Orlandi, 7 grandchildren, 12 great grandchildren and 1 great-great grandchild.