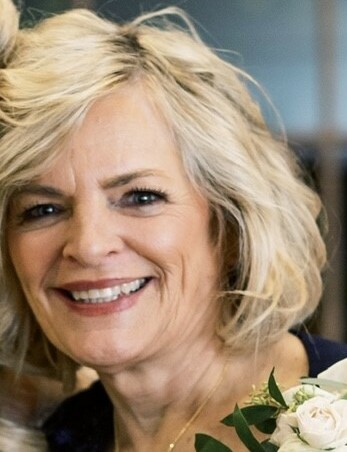 Brenda Phoebus-Richter
Brenda Lee Phoebus-Richter "Gruppie" passed away peacefully surrounded by her family and into the arms of Jesus at sunrise on Sunday, August 21st, 2022. Brenda was born on October 25th, 1956, to Glorice (Dodds) and Louis Phoebus in Plattsburgh, NY and later become proud big sister to Scott and Pamela Phoebus.
Despite moving frequently throughout her childhood, Brenda quickly found her love of the beach and became an avid surfer and synchronized swimmer. She became passionate about music as well and fell in love with playing the harp.
Brenda graduated with her undergraduate and graduate degrees from The University of Arkansas and became a diehard Razorback fan, especially on Saturdays during college football season. Brenda found her calling as a speech and language pathologist, where she fell in love with and cared deeply for her patients, families and co-workers for 43 years.
In January 1990, she married the love of her life, Gary Richter. Brenda was the proud mother of three children: Jordan, Ian and Eric. Brenda's world became complete in December 2019 when she welcomed her first grandchild into the world, Ella Grace Pruitt. For evermore, "Gruppie" and Ella were best friends and stole each other's hearts.
Brenda loved The Lord, her family, friends, and patients, the beach, her granddogs, decorating, pokeno, crafts, and always helping others. She radiated joy and love to every person who crossed her path, and while our hearts are broken, we know that her legacy will live through the many lives she impacted and touched throughout her life.
Brenda was met at Heavens gates by her Lord and Savior; her husband Gary Richter; parents Louis and Glorice Phoebus; best friend Melody Beezley; grandparents, family, and friends.
She is survived by her children: Jordan Pruitt (Austin), Ian Richter, Eric (Angie) Richter; Granddaughter, Ella Grace Pruitt; Sister, Pamela (Rodney) Curry; Brother, Scott (Donna) Phoebus; four nieces and two nephews; and a large extended network of family and friends.
A celebration of Brenda's life will be held at 11am on Saturday, September 24th at Arborlawn United Methodist Church of Fort Worth, with a reception to follow. In lieu of flowers, donations may be made in Brenda's honor to Arborlawn United Methodist Church. https://www.arborlawnumc.org/giving