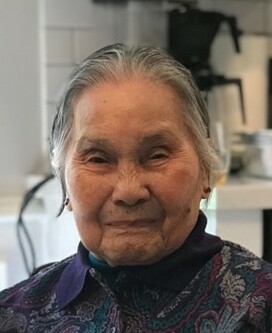 Yiu Wang-Woo
Yiu Wang-Woo passed away on July 13, 2022 at her home in Southwest Fort Worth. She was two weeks short of 100 years old.
A visitation will be held at Martin Thompson & Son, 6009 Wedgwood Drive, 76133, on Friday July 22 from 5 PM to 7 PM.
A memorial service will be Saturday, July 23rd at 11 AM at the Fort Worth Chinese Baptist Church, 4625 Granbury Road, 76133, with Reverend Edward Leung officiating.
Mrs Wang-Woo was born in Zhongshan (中山), in the Canton region of China near Hong Kong on July 27, 1922. She was educated by Christian missionaries from an early age and remained a life long Christian. Her faith was imparted to her children, and extended family.
In 1951, her family escaped Communist China for a new life in Hong Kong. She later immigrated to the US, to be near her daughters.
She spent several hours each morning reading and transcribing the Bible. Besides church, she enjoyed Dim Sum, or lunch at a variety of places each Saturday, followed by shopping excurions with her daughters and niece.
She was passionate about cooking each evening for family, until she was 98, and some of her dishes can be seen on her YouTube channel, "Mrs Woo's Cantonese Cooking".
She was known for cheerful disposition and kindness towards others.
She was preceded by her husband, Man Sing Wong, and son-in-law Pui Lam Yip, and is survived by her son Eddie Wong and wife Sau Fong of Hong Kong, daughters Lai Kin Wong-Yip of Arlington, Helen Wong-Ho and husband Shum of Cedar Hill, Lily Wong-Cirulli and husband Claudio of Fort Worth, six grandchildren Ricky Wong, Wayne Wong, Daisy Yip, Warren Yip, Winnie Yang, Timothy Ho and five great grandchildren.
Special thanks to the Godly women of the Fort Worth Karen community (Myanmar) who were her caretakers. In lieu of flowers, please send a gift to the Agape Ebenezer Karen Baptist Church, 3900 Southwest Blvd, Fort Worth, TX 76116.