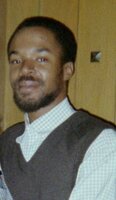 Bralen Curvey
Bralen Curvey was called home by God on Tuesday, May 17, 2022.
Visitation: 7 - 8 p.m. Friday, May 27, at Martin Thompson & Son Funeral Home, 6009 Wedgwood Drive, Fort Worth, TX 76133.
Memorial Service: 10:30 a.m. Saturday, May 28, at Thompson's Harveson & Cole Chapel, 4350 River Oaks Blvd., River Oaks, TX 76114.
He was preceded in death by his father, Michael Curey, Sr., and his brother, Keewan Curvey.
Left in God's care are his beloved mother, Delicia Kennard and stepdad Gerald Kennard, Sr.; his cherished daughters, Ashyria Curvey, Symirah Curvey, Amyiah Curvey, Syniah Curvey, and Kamyri Curvey; one grandson, Angelo J. Perez; brother, Michael W. Curvey, Jr. (LaTownsend); step-siblings, Andria Thompson (Bryant), Gerald Kennard, Jr. (Monica), Amie Kennard, Quenten Harden, and Tarreion Hickerson; grandparents, Mary and Willie Malone, Vera Scipio; and a host of loving aunts, uncles, nephews, nieces, cousins and other relatives and many friends.