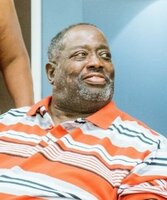 Brian Keith Dabney
Brian Keith Dabney was a loving, caring father, husband, grandfather, and brother who lived a blessed life. He was born and raised in New Orleans, LA, but at the time of his death resided in Fort Worth, Tx. He passed away due to a long-fought battle.
Brian graduated from Booker T. Washington High School. He was also known as Keea, Kiggy, Lil Dip, and as we called him "Dad." He loved his family, hometown, sports, and cooking. Cooking was a hug passion he would say "You gotta put your heart in soul in your food." Keea dreamed of the day he could open a restaurant. He touched us through his cooking and all the rememberable times we spent with him.
He was met in heaven by his mother Elizabeth Dabney, Father Jesse Dabney Sr., Brother Michael, and Grandmother Edna (Morgan) Dabney.
He leaves behind to carry on his memories with his wife of 25 years Della Dabney, he knew from the moment they met he made a best friend and forever partner. He is survived by his wife Della Dabney, (6) children Michelle Williams, Brian Evans, Michael Evans, Coyanna Harris, Dewanna King, Bri 'Anna Dabney. His surviving siblings (2) Edna (Diamond) Davenport and TeJeanne (Milton) Isaac. In-Laws Mother and Father Dellareese (August)Givens, Shelita, August Givens, Angela (the late Jimmie) Givens-Danks, Lynette (Ronald) Harris-Hicks & (7) grandkids a host of nieces, nephews, aunts, uncles, & friends.