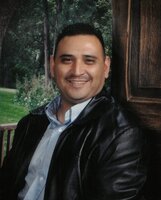 Rudy Rodriguez
Rudy Rodriguez of Fort Worth, passed away peacefully at home on January 18, 2022.
He was born to Aucencion and Guadalupe Rodriguez on October 21, 1965, in Salinas, California.
Rudy was a dedicated and valued employee working for Fort Worth Towing and as a AAA Technician. He loved to travel, play golf, cheer on his Dallas Cowboys, and watch his favorite show, NCIS. He was as stubborn as they come in the best way possible, and always loved the 4th of July, Thanksgiving, and Christmas because he knew he would be with his family. His favorite past time was riding his Ducati Motorcycle with his friends in the Hard Head Riders Motorcycle Club.
He was the very best dad and grandfather, always making time to check in on his family and taking them to dinner.
You could always count on Rudy, and now those great qualities will live on in those he loved so deeply, his family. He will be missed by all who had the opportunity to know and love him.