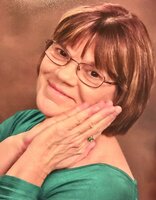 Carla Ann Moore
Carla Ann Moore, 64, went to her Heavenly home on January 5, 2022, in Fort Worth, Texas surrounded by her loved ones.
Visitation: 6:30 - 8:30 p.m. Wednesday, January 12, 2022, at Thompson's Harveson & Cole Funeral Home, 4350 River Oaks Blvd., River Oaks, TX 76114.
Graveside Service: 10:30 a.m. Thursday, January 13, 2022, at the Dallas Fort Worth National Cemetery, 2000 Mountain Creek Pkwy., Dallas, TX 75211. Please line up in lane #3 no earlier than 10:15 a.m.
She was born on May 15, 1957, in Dallas, Texas to MK & Wanda Self.
Carla was fortunate enough to find true love with her husband, Charles Moore who she adored. She had three children, daughters Tiffany and Catelyn, and son Skylar Moore. She always made time for everyone and always provided support and love for her family.
Carla loved her children but especially loved her role as a grandmother to her two granddaughters, Kelsey Hightower, and Eileen Moore. She was an amazing woman whose best qualities are now living on in her children and grandchildren. Carla was always up for a good time and was a passionate fan of her beloved Dallas Cowboys.
Carla is preceded in death by her love, Charles Moore, and parents, MK and Wanda Self.
She is survived by her children, Tiffany Hightower and husband Clay; Skylar Moore and wife Brenda; and Catelyn Aceves and husband Elijah; her two granddaughters, Kelsey Hightower and Eileen Moore; brother Claude Self, and many other relatives and friends.
The family has requested that Cowboy's attire or blue be worn at the graveside service in honor of Carla's love for her favorite team.