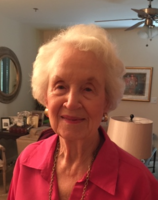 Mary Elizabeth Rickett
Mary Rickett, 94, passed away on August 6, 2019.
Graveside Service: 10 am Saturday, Oak Grove Memorial Gardens, 1413 E Irving Blvd, Irving, TX.
Mary was born on July 4, 1925 in Irving to William and Liddie Caster. She was a loving and devoted mother, grandmother, sister and friend. She loved spending time with her family.
Mary was preceded in death by her husband Carl "Joe" Rickett, her sons, Charlie Rickett and Tony Rickett, and her grandson, Gregory Scott Rickett.
Survivors: Son, Bill Rickett and wife Marsha; grandchildren, Cynthia Elaine Stites and husband Kelye, Buffey Klein and husband Adam, Christie Rickett, Joseph Rickett, and Robert Rickett and wife Courtenay; great grandchildren, Madisen Belamowicz, Trey Rickett Stites, Audry Klein, Abigail Klein, and Courtenay Elizabeth Rickett; brother, Charlie Caster; sister, Eileen Houck; and numerous nieces, nephews and extended family.