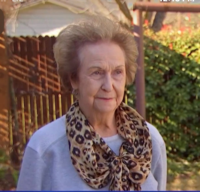 Lola Ruth Martin
Lola "Ruth" Martin passed from this life into the Kingdom of Heaven on April 25th at her home in North Richland Hills, Texas.
Visitation: 5:00 - 7:00 p.m. Sunday, April 28, 2019 at Life Fellowship Church, 760 W Hurst Blvd, Hurst, TX 76053.
Service: 12:30 p.m. Monday, April 29th, at Life Fellowship Church.
Interment: Bluebonnet HIlls Memorial Park
Ruth was born on April 17, 1933 in Cross Plains, Texas, to John Henry and Ethel Reid; she was the beating heart of her family, an accomplished painter and artist, a world-traveler and a devoted pillar of Life Fellowship Church where she served as a Small Group Host and the Senior Adult Coordinator. Ruth was akin to a swan in everything she did; although her feet were always working furiously beneath the surface, she would glide gracefully across the water with a serene elegance of unsurpassed beauty. She faced the last month of her life this way – with dignity, grace and a total faith in God.
Survivors: Ruth was the ultimate matriarch, a woman after God's own heart and the love of Al Martin's life. She is survived by Al, her beloved husband of 69 years, along with their children: Mary Ann Davis, and her husband, Wayne; Darlene Howl, and her husband, Butch; and Ricky Martin, and his wife, Micki; her grandchildren, Chris Gildon, Ambyr Davis Greer, Heather Rodriguez, Matt Gildon and Daryl Martin, along with their respective children, Anna and Alex Gildon; Davis Greer; Evan Rodriguez; Chloe and Logan Gildon, will carry her boundless love, faith and generous spirit on with them for all future generations. We, her family, thank Ruth for all of her love and the lessons she has enriched us with along the way.