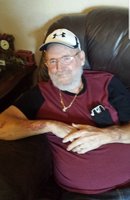 Danny G. Overstreet
Danny Overstreet, 69, passed away on Thursday, April 18, 2019.
Graveside Service: 2 pm Monday, Mt. Olivet Cemetery, 2301 N Sylvania, Ft. Worth.
Danny was born on March 21, 1950 in Wichita Falls to Gene and Evelyn Overstreet. He loved to go to the casino, old cars, and his dogs. Danny was a loving and devoted husband, father, grandfather, brother and friend. He will be greatly missed by all who knew him.
Danny was preceded in death by his son, Dwayne Overstreet, his grandchildren, Emily and Little D, III, his mother, Evelyn Lovelace; his brothers, Bubba Payne, and Timmy Griffin, and his sister Kathy Wheeler.
Survivors: Wife, Linda Overstreet; children, Danny Overstreet, Jr. and wife Crista, Toni Collins and husband Todd, Wendy Robledo, Amber Overstreet, and Eric Overstreet; nine grandchildren; sister, Carolyn Whisenhunt and husband Ken: and a host of extended family.