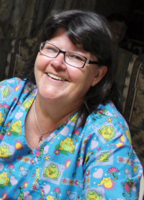 Barbara Stanley
Barbara Dianne Stanley left this earth on Sunday March 3rd. She is now in the loving arms of our Lord JesusChrist.
She was preceded in death by her father Thomas Louis Cockrum and mother Bula Fae (Smith ). Two sisters, Thoma and Nellie and one Grandson Layne.
Barbara is survived by her husband of 36 years Michael Stanley, five children, Michael Jr, Nicholas ,Dyanna(Jamie), Christopher Shane (Rachel), 7 grandchildren whom she loved dearly, Michael III, Sarah, Skylynn, Brenna, Jace,Malakai, Kaiden. One sister Sharon, and a brother Timothy (Becky)Cockrum, along with many nieces, nephews, in-laws and friends.
Her heart, laugh and smile were as big as the state she was born in. Barbara came into this world on December 31, 1961 in Muleshoe. She was raised in Texas and in 1980 graduated from Hereford High School. In 1983 she met the love of her life and left for Arizona to live for a while.
Relocating back to Texas, she became a wonderful mom and worked at Norton Industries for 9 1/2 yrs.
Moving to the Cisco area to be near her parents, she found a rewarding career at the Rockhouse. Many years were spent helping the people she loved as a managing health technician. When her health failed in 2011 she was saddened to leave.
Any spare time she had was spent reading, sewing or knitting.
Barbara will be missed everyday. Her sweet and fun personality is a memory we will keep forever. Bless you Barbara, may you rest in peace and breath easy now!
Please join us for a "celebration of Life" on Saturday, March 9th at the East Cisco Baptist Church at 606 East 11th St. in Cisco, Texas at 3:00.