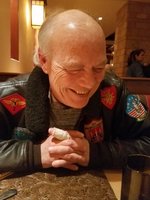 Mark William Ford
Mark William Ford, 64, passed away on Tuesday, January 29, 2019.
Memorials; In lieu of flowers, a fund has been set up to care for his expenses.
Mark was born on April 15, 1954 in Denver, Colorado to Jim and Patricia Ford. He loved to be by the water, play golf, collect military hardware and was heavily involved in the pet food industry. Mark played football for Missouri while in college. He was extremely funny and loved comedy. Mark considered Kirsten to be the greatest accomplishment of his life. He will be greatly missed by all who knew him.
Survivors: Wife, K C Ford; daughter, Kirsten Champlin and husband Will; granddaughters, Parker and Scarlett; sister, Lisa Vogel; brother, Mike Ford; and extended family.