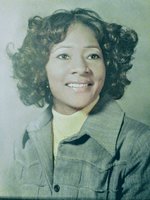 JoAnn Marshall
It was May 29, 1949 that Lillie Bell and Willie C. Aron Sr., welcomed the arrival of their baby girl. They named this bundle of joy Jo Ann Aron.
Jo Ann accepted Christ as her personal Lord and Savior at a very early age. She was a lifelong member of Mount Pisgah Missionary Baptist Church under the leadership of Pastor Nehemiah Davis until her health declined. She has served as the Sunday School secretary for the adult department, worked in vacation bible school, Adult Mission Area #5 and #8 and was also an Inspirational Choir member.
Her formal education was in Fort Worth, TX where she studied nursing and received her license to practice nursing.
Jo Ann was a dedicated nurse for over 30 years at John Peter Smith Hospital where she was blessed to retire after a job well done.
It was on Sunday, December 30, 2018 that Jo Ann went home to be with her Heavenly Father. She was preceded in death by her mother Lillie Bell Aron, a brother Willie C. Aron Jr., and her sister Helen Aron.
Those left to cherish her memories: A loving and devoted son Aron (Teresa) Marshall; Three grandchildren: Kenneth (Dawn), Akaiya and Alyssa; One great-grandson, Jeremiah; Five sisters: Annie Ruth Edwards, Mildred (Alonzo) Allen, Earnestine Maxwell, Carrie (Leo) Ceasar, and Debra (Joe) Elliott; One brother, Larry (Peggy) Aron; and a host of loving nieces, nephews, relatives and friends.
Visitation: 1 - 5 p.m. Wednesday, January 9, 2018 at Thompson Funeral Home, 6009 Wedgwood Drive, Fort Worth, TX 76133.
Service: 11 a.m. Thursday, January 10, 2018 at Mt Pisgah Missionary Baptist, 1801 Evans Ave, Fort Worth, TX 76104.
Interment: Cedar Hill Memorial Park, 8301 US-287 BUS, Arlington, TX 76001.