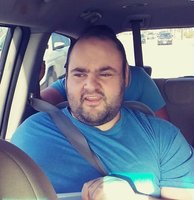 Andrew James Sherman
Andy Sherman, 31, passed away on Sunday, December 2, 2018.
Gathering of Family and Friends: 6 p.m. Friday, December 7, 2018, at Martin Thompson & Son Funeral Home, 6009 Wedgwood Drive, Fort Worth, TX 76133.
Memorials: Should friends desire, memorials may be given to the Organization for Autism Research https://researchautism.org/, Autism Society of America http://www.autism-society.org/, or the Autism Research Institute https://www.autism.com/.
Andy was born on October 21, 1987 in Columbus, Ohio to Matt and Lisa Sherman. Andy's autism created a diverse set of likes. Andy loved going to the beach in Galveston, his Vacuums, Helicopters, playing with coffee beans, his fuzzy kitties, and Little Debbie Chocolate Cakes.
Survivors: Parents, Matt and Lisa Sherman; sister, Ellie Meyer and husband Conner; paternal grandparents, Bob and Pat Sherman; and extended family.