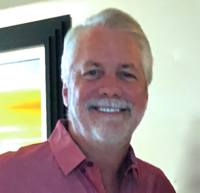 Allen West Paschal
Allen West Paschal, passed away peacefully on November 30, 2018 in Fort Worth, Texas.
Memorial Service: A memorial service for Allen will be held on December 6, at 1:00 PM at Christ Chapel Bible Church in Fort Worth.
Memorials: Floral gifts can be sent to Martin Thompson Funeral Home or delivered on Thursday to Christ Chapel and should friends desire, memorials may be given to charities of choice, the American Heart Association, Compassion International, Children's Relief International (Rockwall, Texas), and/or All Church Home (Fort Worth, Texas).
Allen was born in Oklahoma City on December 12, 1956 to William Raymond and Lois Marie Paschal. In 1993 he married the love of his life, Adrienne Stocker, and together they built a life filled with love, faith and laughter.
A lover of adventure and life, Allen's personal motto was to "live life passionately and make a difference" as well as to "do right, fear not". He loved all of God's creation: eddylines, rivers, mountains, oceans, deep powder snow, waterfalls, and twelve string guitars. And, most of all, he adored his family and friends.
He graduated from Casady School in 1975 and the University of Colorado at Boulder in 1979. Following college, Allen was the director of Adventure Bound/Bear Poll Ranch, an outdoor wilderness camp for youth and worked on the ski patrol at Monarch Ski Mountain. Returning home to Oklahoma City in 1981, Allen co-founded Data Times Corporation, the first company to digitize newspaper archives for online research before the internet, where his leadership ensured the success of the company and the future of its employees. In 1998, Allen became CEO of Gale Group a subsidary of the Thompson Corp. A member of Young Presidents Organization, he was an entrepreneur who successfully built/managed/consulted for several businesses; including Lone star Resources, Fort Worth Energy Co., Ft Worth Pipeline Co., onTargertJobs, Global Medical Management, and Ecotest Energy.
Allen was preceded in death by his parents, and brother, William Raymond Paschal, Jr.
Survivors: Allen is survived by his beloved wife, Adrienne; five children, Christina Paschal, Nick Paschal with wife Ceelah, Callie Johnston, Christopher Paschal, and West Paschal; as well as five grandchildren; brothers John Mark Paschal, and partner Billy, David Paschal, and his sister Carolyn Paschal.