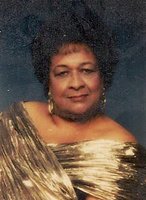 Enid Davis
Enid Margaret Ferebee Davis, 84, passed away November 28, 2018.
Memorial Service: 2 p.m. Friday, November 30, 2018, Martin Thompson & Son Funeral Home, 6009 Wedgwood Dr., Fort Worth, TX 76133.
Enid Margaret Ferebee Davis was born on January 22, 1934, to Emily Ellis and Rufus Ferebee, in Harlem, New York. She was the youngest child of three. She lived in Harlem until she moved to Brooklyn, New York. She lost her father at age 6 and her mother had to do work as a live-in domestic worker, away from her for five days a week. This left Enid to be cared for by her brother, Rufus, and her sister, Doris. They had a challenging life.
However, the community assisted Doris in the care of Enid while her mother was away during the week, after Rufus went into the military. Later, at the age of 13, she met Thomas Francis Davis. He became the love of her life. His mother, Kathleen Sessoms Davis, embraced Enid and served as a surrogate maternal influence to her.
She married Thomas F. Davis at the age of 17. They had five children, KayKay, Eric, Tony, Dina and Buddah. As a young couple, they lived in the NY City Housing Projects; however, they were able to move to Long Island into a beautiful home. Unfortunately, they divorced after 24 years of marriage. Although the separation and divorce took a toll on Enid, she was inspired by her Aunt Dorothy to get her high school diploma and to pursue even higher education.
Within six years of her divorce, Enid secured her high school diploma and her bachelor's degree from Old Westbury College, with high honors. The family remembers all the awards she received at her graduation, at the age of 49!!
Due to her daughter's special needs challenges and with the encouragement of her son, Tony, Enid relocated to Fort Worth, Texas, with her two youngest children. Most of her family followed her there. There she purchased her first home, worked in her professional and continued to encourage her children.
She worked in the health care field, with special needs citizens for many years. Later she worked for Daniels and Davis-Daniels, Esqs. a law firm in New Jersey.
Enid went on to secure her master's degree and until the age of 82 she continued to take writing classes and Spanish classes, at the local college. She was always learning. She published many short stories and was working on her autobiography at the age of 84. She served as a newsletter person for her housing development for a few years.
Enid left behind her sons, George Eric, wife Renae, Michael Anthony, wife Dorothy, Thomas Francis, Manuel and daughters, Kathleen Elyce, husband Kevin and Eve Nadine, and Angel, (James). Also, she was survived by her grandchildren, Lisa (Marcus), Michael Anthony Jr. (Deanna), Michelle, (Manuel), Kwesi, (Aaliyah), Jibari, Akilah and Sharifa, Tysen, David, Thomas III and Devin, and 13 great grandchildren and 4 great great grandchildren. Her great granddaughter, Belle, and granddaughter Autumn, predeceased her.