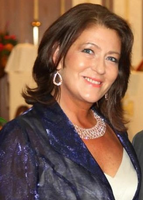 Jennifer Lynne Billings
Jennifer Lynne Billings passed into our Lord's hands on November 27, 2018.
Celebration of Life: 11:00 a.m. Tuesday, December 4, 2018, at St. Paul Lutheran Church, 1800 West Fwy, Fort Worth, TX 76102.
In lieu of flowers, donations may be made to Forgotten Tails Animal Rescue www.forgottentails.weebly.com or The Healing NET Foundation www.thehealingnet.org/.
Jennifer's story began on August 20, 1962 at Tinker Air Force Base in Oklahoma City, Oklahoma to her mother, Ruth Landreth, and father, Bill Landreth. Jennifer graduated from Springfield High School in Battle Creek, MI in 1980.
After graduation, Jennifer married her husband and soulmate, Daniel Billings, on November 28, 1981 in Battle Creek, MI.
Dan and Jenni Girl settled in Fort Worth, Texas and later started their family and had two handsome sons, Kyle and Kevan Billings. Within their 37 years of marriage, Dan and his beautiful bride built a wonderful and adventurous life together while always willing to help anyone in need.
Jennifer, also known very well as "Mama B," loved people but more importantly, people loved her. To say she never met a stranger is an understatement. She thrived on creating new friendships and maintaining her oldest and dearest ones. Jenn loved any and all animals and had a special place in her heart for stray animals. She was extremely passionate about breeding and raising Golden Retrievers, and also worked with a foster organization for dogs, Forgotten Tails. She loved knitting, gardening, and all sorts of crafts and cheering on the Dallas Cowboys. Jennifer was always the "researcher" of the family and could fix any problem that came her way with her computer expertise. Most of all, she loved spending time at the coast on North Padre Island with her boys and grandson, Jackson. She was an amazing wife, mother, sister, friend, and Grammy.
While she considered most every moment in life a gift, it was her family she treasured the most. In the wake of her passing, her family and friends will deeply miss their Wife, Mother and Grammy.
Survivors: Husband, Dan Billings; sons, Kevan Billings and Kyle Billings his wife Taylor and their son, Jackson; her father, Billy C. Landreth; mother, Ruth Dick; sisters, Molly Galbraith and husband Gregg, and Elizabeth Winsor and husband Mike.