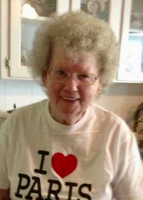 Idell Davis
Idell Davis, 95, passed away on Saturday, November 24, 2018.
Graveside Service: 3 pm Tuesday, Azleland Memorial Park, 805 N Cardinal Rd, Azle.
Idell was born on March 28, 1923 in Fort Worth to Robert Har and Zora Tuggle Gibson. She worked for many years a General Dynamics.
Idell was preceded in death by her husband Jack Davis; her daughter, Barbara Smith; her granddaughter, Debra Ingram; her great-grandsons, James Steven Batchelor and Kia Wakefield; and her sister, Ailene Green.
Survivors; Children, Aubrey Scott, Judy Burrow, and Beverly Wakefield; twelve grandchildren, sixteen greatgrandchildren, and a host of great-great-grandchildren.