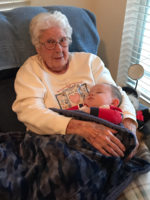 Martha Fay Cody
Martha Fay Cody, 95, passed away on Tuesday, November 20, 2018.
Martha was born on May 25, 1923 in Dallas, Texas to Ike and Gertrude Parkey. She was the co-founder of City Florist in Grapevine. Martha was a longtime member of Memorial Baptist Church in Grapevine.
Martha was preceded in death by her parents and her husband John Cody.
Survivors: Children, Carolyn Cody, Paul Cody and wife Peggy, and Barbara Cody Bessant and husband Martin; grandchildren, Chris Cody, Kacey Stewart and husband Randy, and Meredith Banks; great-grandson, Tripp Stewart; and extended family.