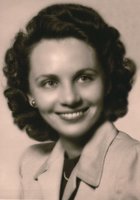 Lamoin Royer
Lamoin Davis Royer, 96, died peacefully at home on November 19, 2018
Memorial Service: 11 a.m., Monday, November 26 at Ridglea Christian Church
Memorials: At her request, memorials may be given to Ridglea Christian Church, or please take a bouquet of flowers to someone you know who is sick or alone to brighten their day.
Lamoin was born on February 18, 1922, in Athens, Texas. She grew up in Chillicothe, Texas with her parents, Ella and Eli and three brothers, Gilmer, Lewen and twin brother Lamar.
She later moved to Fort Worth and in 1947 married the love of her life, Charles Royer. Together they were charter members, helping start Ridglea Christian Church in 1955. They were married for 67 wonderful years and together enjoyed their family, church, their yard, and watching lots of TCU sports.
At Ridglea Christian Church, Lamoin was active in CWF and in the Nursery. She enjoyed staying in the background at the church, working in the kitchen, fellowship hall, and planting flowers. She loved God, her family, church, babies and being in the yard growing beautiful flowers.
She was an accomplished seamstress, sewing clothes for her daughter and grand daughters and making many creative crafts for the church bazaars. Lamoin was an exceptional steward of all of God's gifts. She never wasted a bite of food or a scrap of fabric. She delighted in shopping for bargains, always finding the best sales and had practical solutions to all of life's problems.
Her husband, Charles and her family, were her life.
The family wants to give special thanks to all of her caregivers who have been so loving and faithful for many years and to Asana Hospice.
Survivors: Son, Bill Royer and wife, Kelley; daughter, Janet Royer Lanza and husband, Don; grandchildren, Amy Myers and husband, Shawn; Charlie Royer and wife, Adelaide; Allison Lanza; David Lanza; and great grandchildren, Shirley and Minnie Royer and Spencer Davis Lanza.